Adult, Alcohol
&

Vape Website Age Verification

Age gate WordPress and WooCommerce. Responsive, customizable and translation ready. Download the free plugin.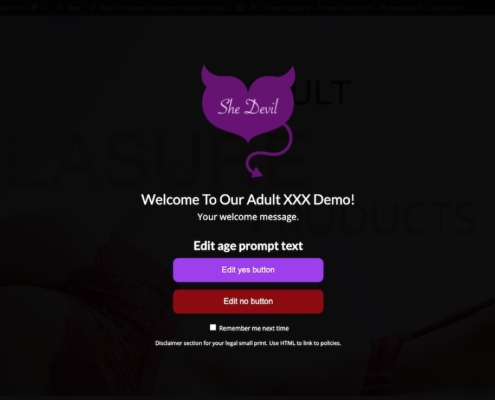 3
Customize button colors and text
5
Hide site 0%-100% behind custom color background
Here's how to get started for FREE.
The best option is our 14-day trial to start designing with Premium features. Click "start free trial" to download both the free and Premium plugin. You will not be asked for a credit card. If you decide not to upgrade it switches to the free plugin at the end of the trial.
How does the trial work?
Start a Premium Trial from this page or after installing the standard plugin.
Click free trial and checkout $0.
Install and activate the premium plugin.
If you're new, look for a verification email. (check spam or updates)
It's hassle-free:
Doesn't ask for payment info
Lasts 14 days
Nothing to cancel
Switches to the free plugin when the trial ends
Does it work for any age?
With the Easy Age Verify Premium plugin you can edit the verification text (including buttons) for any age. Customize it to verify anything in any language.
To restrict cannabis sites check out our Marijuana Age Verify plugin.
How much does it cost?
Plans start at $3.99 /month. Get 3 MONTHS FREE with an annual plan for one site.
Get the best rate annually, plus bulk discounts
30-Day Money Back Guarantee
Future features and updates are included in your Premium plan
Is there a guarantee?
30-day satisfaction guarantee refund policy on paid plans. If you try before you buy with a 14-day trial you will not be charged during the trial or require a refund.
Whether you are using a free or paid version of our plugin we strive to keep them updated with current WordPress versions and security fixes. If you run across a bug or have ideas for features use the contact form from the plugin settings page.
Turnkey Setup
Age gate your site

in a few simple steps.
Step 1

Enable Testing Mode during setup while hidden from visitors.

Step 2

Use free turnkey settings for adult, alcohol or vape or try Premium to customize it.

Step 3

Try Premium to add a logo, welcome message, customize colors or text.

Step 4

When everything looks perfect enable "show to visitors" to start age restricting your site.
Easy Age Verify Free Plugin
A simple, elegant solution to age gate WordPress.
The free age verification plugin provides turnkey configurations for adult, alcohol and vape. Enjoy a user friendly experience and high quality responsive display. Upgrade to the Premium plugin to translate or customize text and add your branding.
Risk Free, No Credit Card Required
Create Perfectly Timed Promotions
Integrates with Pretty Simple Popup Premium
Pair with our marketing popup to drive verified visitors to promotions.
Promotion does not layer behind the Age Verify window.
Popup delay timer starts ticking after age window closes.