Adult, Alcohol
&

Vape Website Age Verification

Age gate WordPress and WooCommerce. Responsive, customizable and translation ready. Download the free plugin.
Monthly or pay for a year, your choice. Plugin updates and tech support are included standard. Get the best value when you choose an annual plan (3 months free single site) and multi-site discounts.
Standard

Turnkey Age Settings
Skip Logged-in Users
Plugin Updates
Edit Some Text
Hide Site 100%
–
–
–
Free
Premium

☆
☆
☆
Edit All Text – Translation Ready
Hide Site 0-100%
Branding Design Options
Remember Visitors
Tech Support
Starting at

$

3.99
3 MONTHS FREE WITH ANNUAL
30-Day Money Back Guarantee
Turnkey Setup
Age gate your site

in a few simple steps.
Step 1

Enable Testing Mode during setup while hidden from visitors.

Step 2

Use free turnkey settings for adult, alcohol or vape or try Premium to customize it.

Step 3

Try Premium to add a logo, welcome message, customize colors or text.

Step 4

When everything looks perfect enable "show to visitors" to start age restricting your site.
Here's how to get started for FREE.
The best option is our 14-day trial to start designing with Premium features. Click "start free trial" to download both the free and Premium plugin. You will not be asked for a credit card. If you decide not to upgrade it switches to the free plugin at the end of the trial.
How does the trial work?
Start a Premium Trial from this page or after installing the standard plugin.
Click free trial and checkout $0.
Install and activate the premium plugin.
If you're new, look for a verification email. (check spam or updates)
It's hassle-free:
Doesn't ask for payment info
Lasts 14 days
Nothing to cancel
Switches to the free plugin when the trial ends
Does it work for any age?
With the Easy Age Verify Premium plugin you can edit the verification text (including buttons) for any age. Customize it to verify anything in any language.
To restrict cannabis sites check out our Marijuana Age Verify plugin.
Which plan is right for me?
The difference between plans is how you pay and how many sites you license. Save money when you select an annual plan. Save even more when you license multiple sites.
The Standard plan is our free plugin. You can download it by starting a free trial to use Premium features, then it switches to the free version if you do not choose to upgrade. There is no credit card required and nothing to cancel. Alternatively download the free plugin directly from WordPress.org.
Upgrade to a Premium plan for all the features the plugin has to offer plus tech support.
Plans start at $3.99 /month. Get 3 MONTHS FREE with an annual plan for one site.
Get the best rate annually, plus bulk discounts
30-Day Money Back Guarantee
Future features and updates are included in your Premium plan
30-day satisfaction guarantee refund policy on paid plans. If you try before you buy with a 14-day trial you will not be charged during the trial or require a refund.
How does installation work?
Installation is easy with one-click activation. Then follow our step-by-step guide to setup available from the Knowledge Base complete with troubleshooting tips. We provide tech support via email for guidance.
How do I get support?
Technical support is included to help you with setup. Our WordPress professionals based in the U.S. will work with you over priority email to get everything working perfectly.
Get Support
Start by visiting our Knowledge Base for quick answers. If you need help from a person, click "Email Support" from the top menu of the Knowledge Base to start a support ticket. Support is also integrated to WordPress. Simply click the ? icon or "contact us" from the plugin page to submit a "technical support" request.
Looking for your account login? An email is sent with your new login after purchase. Access downloads, plans and manage billing in your account. Login to your account here.
Are plugin updates included?
The free Standard plugin and Premium plugin includes plugin updates. Plugin updates might include important security patches, fixes, new features, and any required app updates to keep up with changes in WordPress and other systems it works with. Renew your Premium subscription to keep your platform secure and running for a low fee – with VIP support.
About Easy Age Verify Free Plugin
A simple, elegant solution to age gate WordPress.
The free age verification plugin provides turnkey configurations for adult, alcohol and vape. Enjoy a user friendly experience and high quality responsive display.
Upgrade to the Premium plugin to translate or customize text and add your branding.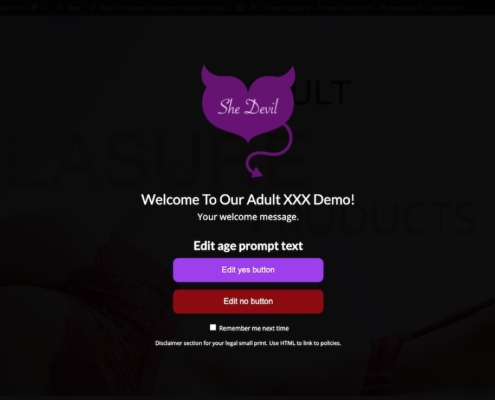 3
Customize button colors and text
5
Hide site 0%-100% behind custom color background
More Details (for the techies)
Who's it for?
Why Users Love Easy Age Verify Plugin
Quick and easy setup
No coding required
Ad-free
Fast loading, responsive design
Stacking no scrolling
SEO friendly
ADA compliant
Not stopped by popup blockers
Developed in the United States
Compatible with any WordPress Theme
Does not require purchase of other products
Who uses it:
XXX 18+ adults only sites
Sexual wellness cart
Adult novelty shops
Vape shops
Wine, beer or spirits alcohol sites
Designed for the US and Canada, customizable worldwide
International users can translate age verification using the Premium plugin.
How it works:
The age gate is triggered on page load.
A fullscreen window masks content behind an opaque background.
Visitors verify using Yes/No buttons, then do not see the popup again during the session.
Want to time a marketing popup after verify closes? Check out Pretty Simple Popup
Disclaimer: While we do our best to provide age verification using the widely used web standards, 5 Star Plugins cannot guarantee legal compliance. 5 Star Plugins is not a legal service and cannot provide legal advice. Please consult your local laws and legal counsel.