3 MONTHS FREE WITH ANNUAL
30-Day Money Back Guarantee
Marijuana Age Verify is a simple, elegant solution to age gate WordPress.
The user friendly dashboard provides turnkey configurations for recreational and medical. The Premium plugin is translation ready and customizable. Get up and running in minutes with minimal plugin configuration. This trusted plugin is developed and supported in the US.
Who's it for?
Take the guesswork out of cannabis website age verification.
Marijuana Age Verify is a simple solution to age gate WordPress. Get up and running in minutes with minimal plugin configuration.
No coding required
Fast turnkey setup
Customizable
No ads in free plugin
Developed in the U.S.
Our cannabis plugin is compatible with any WordPress Theme and does not require purchase of other products.
Who uses it.
Used by dispensary websites, cannabis product manufacturers, WooCommerce shops, marijuana growers, and content creators. It was designed using best practices for the United States and Canada. International users can translate the popup using the Premium plugin.
What it does.
Age gate visitors on WordPress and WooCommerce cannabis sites. The full screen window masks content behind an elegant transparent background. Visitors verify using Yes/No buttons, then do not see the popup again during the session.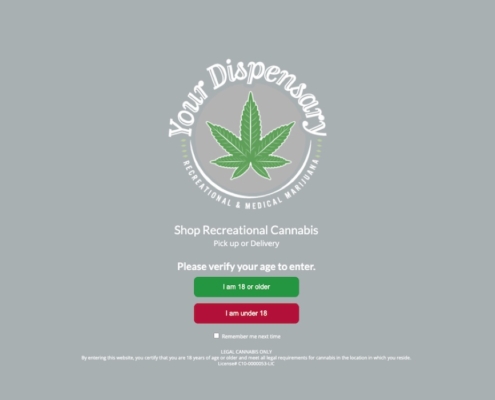 3
Customize button colors and text
5
Set background color and opacity
Customize With Premium
Age Verify will be the first thing visitors see. Create a better branded customer experience with Marijuana Age Verify Premium.
Brand it
Translation ready
Remember return visitors
Risk Free, No Credit Card Required
How does the trial work?
Start a Premium Trial from this page or after installing the standard plugin.
Click free trial and checkout $0.
Install and activate the premium plugin.
If you're new, look for a verification email. (check spam or updates)
It's hassle-free:
Doesn't ask for payment info
Lasts 14 days
Nothing to cancel
Switches to the free plugin when the trial ends
How much does it cost?
Plans start at $4.20 /month. Get 3 MONTHS FREE with an annual plan for one site.
Get the best rate annually, plus bulk discounts
30-Day Money Back Guarantee
Future features and updates are included in your Premium plan
Does it work for any age?
With the Marijuana Age Verify Premium plugin you can edit the verification text (including buttons) for any age.
To restrict other types of content such as XXX, alcohol, or vape, check out our Easy Age Verify plugin.
Here's how to get started for FREE.
The best option is our 14-day trial to start designing with Premium features. Click the "start free trial" button to download the Premium plugin.
If you decide not to upgrade it switches to the free plugin at the end of the trial.